FEATURES
HIGH CAPACITY 10,000 mg/h: Upgraded MA10K-PRO ozone plates support high ozone output of 10,000 mg/h with a 5-year or 20,000-hour service life.

ODORS REMOVAL: MA10K-PRO is powerful to deodorize and sterilize your space from any odors, mold, bacteria, viruses, and VOCs.

WIDELY USED: A must-have for large rooms, offices, hotels, restaurants, farms, labs, pet zones, basements, garages, vessels, hospitals, schools and kindergartens, water, and fire-damaged areas, etc.

EASY OPERATION: Apply the ozone treatment twice a week for normal use. Increase the treatment duration and frequency when air problems recur.

120MIN TIMER FOR SAFETY CONCERNS: All ozone machines are for UNOCCUPIED space only. Set a timer before you leave the room. Ensure that no people (and also pets) in the room when it's working. Return to the room when all residual ozone reverts back to oxygen, which costs normally 30 minutes.
Powerful Odor Elimination
Also reduces surface viruses and bacteria
The Airthereal MA10K-PRO is a powerful ozone generator made for the pros. Plug-in air fresheners, spray deodorizers, and scented candles simply cover up odors. With the MA10K-PRO you can eliminate odors at the source instead of just trying to hide them. The easy to use control panel allows you to start ozone generation in two easy steps: turn the knob, then leave the room. Wait 30 minutes after ozone generation stops before entering the now odor-free room. If you have stubborn smells in your home, the Airthereal MA10K-PRO is your one-stop odor-removing solution.
Remove Tough Odors
Ozone is very effective at removing bad smells and odors from your home. After cleaning up and removing the source of the odor, the ozone generator will produce ozone to seek and destroy any offensive odor molecules.
Get Rid of Mold
Mold growth looks gross, smells bad, and can damage your health. You cannot let mold grow in your home! After cleaning up the surface mold, ozone can prevent mold spores from growing or spreading in your home.
Maintain Your Health
When pollutants spread in the air, people get sick or develop allergy symptoms. To reduce the risk of illness, it's vital that you clean up your living space to protect you and your family.
Eliminate "New House" Smells
Fresh paint, new flooring, the latest furniture: all things we love seeing in our new home, but all things that can release harmful odors and VOCs. Before moving into your new space, ozone can be applied to reduce these harmful chemicals so you are not breathing them in.
Step 1 - Clean up the pollutants
Before ozone treatments, please do some cleaning in order to remove the source of the odors. Close the windows and doors. Make sure no people or pets are in the room.
Step 2 - Adjust the timer knob
Set the control knob and leave the room. Treatment time can be adjusted according to room size and air quality. If you are not sure, start with 15 min and increase as needed.
Step 3 - Leave the area
Please stay outside the room being treated with ozone. We include a NO ENTRY sign in the package as a gift, which can be hung on the door to prevent others from going inside.
Repeat as needed
Wait 30 minutes after ozone generation ends to step inside. Repeat treatment regularly or if you still notice a lingering odor in the room after treatment.
MA10K-PRO Ozone Generator
MA5000 Ozone Generator
MA10K-PRODIGI Ozone Generator
https://airthereal.com/collections/ozone-generator/products/ma10k-pro
https://airthereal.com/collections/ozone-generator/products/ma5000
https://airthereal.com/collections/ozone-generator/products/ma10k-prodigi
OZONE OUTPUT
ROOM COVERAGE
TIMER
OZONE/FAN ADJUST
CYCLE MODE
10,000 mg/h@@ 2,000 sq. ft@@ 2 Hours@@ --@@ --
5,000 mg/h@@ 1,000 sq. ft@@ 2 Hours@@ --@@ --
2,000-10,000 mg/h@@ 2,000+sq. ft@@ 12 Hours@@ YES@@ YES
Technical Specifications
Colors: Yellow
Ozone Output: 10,000mg/h
Air Flow: 120 CFM
Applicable Area: 2,000 sq ft
Noise Level: < 45 dB
Material: Stainless Steel
Weight: 6.6 lbs (3 kg)
Dimensions (LxWxH): 9.3 × 7.1 × 6.8 inches (23.7 x 18 x 17.5 cm)
Power Consumption (US): 110V 60 Hz
Power Consumption (EU): 220-240V 50 Hz
Warranty: 3 years
Package Includes
1 x MA10K-PRO Ozone Generator
1 x Ozone Plate
1 x Power Cord
1 x User Manual
Customer Reviews
Write a Review
Ask a Question
I recommend this product
MA 10K pro
Works Great to get rid of smell
12/07/2021
Marty Q.

United States
Works VERY well
This thing is extremely powerful for its size. I had recently rented a similarly sized machine, and this thing has way more power. Make sure you're not in your house for a few hours while this is running. I bought this because we had some water get into our basement, and had an area of carpet get wet. After drying it, there was a noticeable odor. I ran this for about an hour in a bedroom with the door closed on 2 separate occasions, and once the smell of ozone had dissipated, the wet carpet smell was gone. Highly recommend,
12/06/2021
michael p.

United States
I recommend this product
Great Ozonator!
We already Have the smaller version of this ozonator at home. We are going to sell our old rental house…. Damn that house is stinky!!! Threw out most of the stuff the renter left in the basement and placed this new one in the basement and let it run several times for two hours….. the smell is dramatically different….still a Small hint of musty, mildew etc. is still present….. the smaller version puts out half the ozone this one does…. Glad I bought this item to clean and neutralize the old basement . Great product…… let the ozone neutralize before entering….. I left it on at the last second before leaving the house for several days…..
12/02/2021
Rashu

United States
I recommend this product
Best unit for the price
I have had other ozone machines that costs several hundred dollars more, and am very grateful to have found an ozone machine by airthereal for a very affordable price. Worth every penny. Plus customer support is excellent. Although you can't get a hold of a real person, and you need to email your concerns, comments or questions, they get back to you within 24 hours. I would recommend this machine for anyone who has pets, dander, and wants to clean their living space of all potentially harmful bacterias, mold, mildew, etc.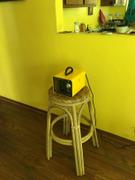 11/08/2021
Anonymous

Latvia
I recommend this product
First experience
It works, good quality. Professional device I can say.