FEATURES
POWERFUL CAPACITY: With a max ozone output of 10, 000mg per hour and a honeycomb current technology, this ozone generator packs a punch when compared to smaller-output units. In addition to regular home use, this also makes the MA10K-PRODIGI perfect for larger areas like offices, restaurants, hotels, and garages.
EASY CONTROL INTERFACE: Extra buttons and settings make things confusing, so we got rid of them! With only 5 buttons on the control panel and an easy-to-read LCD display, you can get your ozone generator up and running in a matter of seconds.
EXTRA LONG TIMER: For those extra strong odors, you may need to run your ozone generator for longer periods of time. The upgraded timer on your Airthereal ozone generator allows you to produce ozone for up to 12 hours at a time, which will help eliminate even the toughest odors.
12/24 HOURS CYCLE MODE: Activate the interval function to allow your MA10K-PRODIGI to run 1/2 hours in every 12/24 hours. This could free you out of daily settings for ozone treatments. Start the unit when the room is unoccupied and it will automatically begin to work at the same time every day or every half day.
BULLETPROOF CASE: Bulletproof may be a stretch, but designing the case from 304-grade stainless steel makes it anti-corrosive, easy to clean, and overall pretty sleek--pretty much like a spaceship.
Remove Tough Odors
Ozone is very effective at removing bad smells and odors from your home. After cleaning up and removing the source of the odor, the ozone generator will produce ozone to seek and destroy any offensive odor molecules.
Get Rid of Mold
Mold growth looks gross, smells bad, and can damage your health. You cannot let mold grow in your home! After cleaning up the surface mold, ozone can prevent mold spores from growing or spreading in your home.
Maintain Your Health
When pollutants spread in the air, people get sick or develop allergy symptoms. To reduce the risk of illness, it's vital that you clean up your living space to protect you and your family.
Eliminate "New House" Smells
Fresh paint, new flooring, the latest furniture: all things we love seeing in our new home, but all things that can release harmful odors and VOCs. Before moving into your new space, ozone can be applied to reduce these harmful chemicals so you are not breathing them in.
Step 1 - Clean up the pollutants
Before ozone treatments, please do some cleaning in order to remove the source of the odors. Close the windows and doors. Make sure no people or pets are in the room.
Step 2 - Use the timer
It's highly recommended to set the timer and leave it in the room. Treatment time can be adjustable according to room size and air quality. If you have no clues, you can start with 1 hour, and increase the treatment duration or frequency for the next time.
Step 3 - Leave the area
Please stay outside the room being treated with ozone. We include a NO ENTRY sign in the package as a gift, which can be hung on the door to prevent others from going inside.
Repeat as needed
Wait 30 minutes after ozone generation ends to step inside. Repeat treatment regularly or if you still notice a lingering odor in the room after treatment.
MA10K-PRODIGI Ozone Generator
MA5000 Ozone Generator
MA10K-PROD Ozone Generator
https://airthereal.com/collections/ozone-generator/products/ma10k-prodigi
https://airthereal.com/collections/ozone-generator/products/ma5000
https://airthereal.com/collections/ozone-generator/products/ma10k-pro
OZONE OUTPUT
ROOM COVERAGE
TIMER
OZONE/FAN ADJUST
CYCLE MODE
2,000-10,000 mg/h@@ 2,000+sq. ft@@ 12 Hours@@ YES@@ YES
5,000 mg/h@@ 1,000 sq. ft@@ 2 Hours@@ --@@ --
10,000 mg/h@@ 2,000 sq. ft@@ 2 Hours@@ --@@ --
Technical Specifications
Colors: Blue
Ozone Output: Adjustable 2,000-10,000mg/h
Air Flow: 5-speed Fan: 40/60/70/85/100 CFM
Applicable Area: 2,000+ sq ft
Noise Level: < 45dB
Material: Stainless Steel
Weight: 6.6 lbs (3 kg)
Dimensions (LxWxH): 9.3 × 7.1 × 6.8 inches (23.7 x 18 x 17.5 cm)
Power Consumption (US): 110V 60 Hz
Power Consumption (EU): 220-240V 50 Hz
Warranty: 3 years
Package Includes
1 x MA10K-PRODIGI Ozone Generator
1 x Ozone Plate
1 x Power Cord
1 x User Manual
Customer Reviews
Write a Review
Ask a Question
12/14/2021
jerry s.

United States
fantastic
as i have and have had experience with o2 generators i am a bit impressed with this item. please note o2 gens are not for everyone and can cause serious injury even death if warnings are not adhered to.. from electrocution to un reversible lung damage.. This device is small sets on the bottom of a 5 gallon bucket perfectly the size of a kids shoebox and very light could be easily hung up with minimal renforcement and little ingenuity. it is also very attractive shiny finish clearish colored finish is awesome. controls are front mounted and easy and intuitive to operate. the fan has a plastic cover that comes with a fine steel screen (careful its sharp) the cover provides more than enough room for a carbon prefilter (cut your own) make sure to place filter into cover first then wire screen, screen should be between fan and prefilter. o2 and fan are both variable/ adjustable. this unit really pumps out the o2 even on the low setting. what i don't care for is the backlight on the display is always on even when unit is off. controls should be lighted black pannel with really small text hard to see even in lighted room... and extra timer settings 30 min every 6 hours and 15 min every 2 hours. and the front and back panels of the device could use dust seals around the edge would also reduce noise and need for internal cleansing this device is not meant to collect dust but by its nature it will collect it just like a bug zapper..if your after dust use a separate filter specific for dust along with this device you should get great results
12/06/2021
Robster2443

United States
I recommend this product
VERY powerful ozone generator!
All I can say is wow. This thing really puts out the ozone, and is kinda scary with all the lightning going on inside! It's probably overpowered for what I use it for. (lots of pets, I use it to freshen up rooms after cleaning.) It's amazing how powerful it is. I see a few reviews talking about how ozone is too strong and this thing is dangerous, so on and so forth. You just have to realize you, your kids, and your pets have to NOT be in the room, and to wait a long time after it is done before you move back into the room. Air the room out with an open window! What I don't like? You've got 5 seconds to get the thing situated and get away before you get a face blast of ozone. I'd like to see a longer timer before it kicks on. The controls are maybe not the most intuitive, but it works. Also, as you might expect from an electrical discharge device, this interferes with Wifi and Bluetooth. A lot. You may have connection issues while it is running. Fortunately, as powerful as this generator is, you shouldn't need to run it long. I run it maybe a half hour tops for a normal sized bedroom. Overall a great device and it definitely does what it says it will. Just be mindful of safety and air your room out!
12/02/2021
ag0610

United States
I recommend this product
Amazing!
This worked like a charm! We recently bought a house and the previous owners made the inside smell like a stale ashtray. We had most of the house repainted and removed the carpet, but we aren't really doing the basement just yet, and it STUNK! It smelled extra bad when the humidity went up. We ran this this in the basement for 4 hours and, like magic, the smell was gone!!! I'm so impressed! There's carpet and a drop ceiling in the basement so lots of surfaces for the smoke smell to get trapped. This was amazing.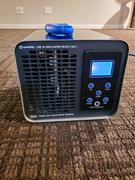 08/10/2021
Anonymous

Greece
I recommend this product
very bad delivery company
satisfactory although the smell is intense. I haven't seen visible any changes in the bathroom that I am using but I guess it does the work based on written evidence. I did not like the delivery part. It took way too long around 3 months I think and there was no indication that it was arriving.
07/29/2021
Daniel M.

United States
I recommend this product
Smaller in size but bigger impact than expected
Very happy with this purchase. It seems to have been successful in removing serious pet smell from the basement of a home we recently purchase. And it only took 2 hours! Boom!
You may also like