FEATURES
True HEPA Technology: Fine pre-filter, true HEPA filter, and activated carbon filter work together to capture harmful pollutants in indoor air. 
Best Choice for Allergies: It removes 99.97% airborne particles as small as 0.3-micron, such as dust, pollen, bacteria, mold spores, pet dander, smokes, and VOCs.
Replacement Alert: When the PM2.5 light turns RED and keeps flashing, this is a reminder to check and change the filter, which is supposed to be every 6-8 months depending on its condition. To reset the replacement alert, press the FAN and TIMER button simultaneously and hold for 3 seconds.
Friendly Reminders: Please ensure to power off before operation. Remember to close the front shell properly after the replacement. Otherwise, it will fail to process power out of safety concerns.
WHEN?
Replacing the air filter every 6-8 months is recommended for optimal use (or according to your air filter status).
It is time to replace the air filter when the following signals appear: Increased noise, Decreased airflow, Clogged filters, Presence of odors from the unit.
HOW?
Unplug the air purifier and remove the front shell.
Remove the old filter and then unwrap the new air filter.
Install the new filter and make sure the pull-tab on the filter is facing outward and put the front shell back.
Press and hold the FAN and TIMER button simultaneously for 3 seconds to reset the unit. Then the replacement reminder will be off.
Customer Reviews
Write a Review
Ask a Question
12/11/2021
Jennifer S.

United States
I recommend this product
No delivery started yet
I love this product and I'm waiting for replacement filters Ordered Nov 29 Money paid Tracking number created No delivery started It's the holidays, so i understand delay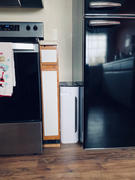 Hello Jennifer, Thank you for taking the time to leave feedback about APH260 Air Purifier. Affected by the high volume during the holiday seasons, FedEx is unstable to update its online information and has delays when shipping the package. Please wait for 2 days, and we are contacting them to locate the package. If the package is confirmed lost, we will arrange a replacement for you immediately. Thank you for your kind understanding and patience. We will write back to you later. Have a great day! Emma
12/07/2021
George Y.

United States
I recommend this product
11 days not received yet, maybe sometime
Order ATH#18225. Ordered 12 days ago, Fedex tracking shows only label created, not shipped. Still waiting or need refund
Hello George, We are so sorry for the delay with your package, and we believe the package was lost. We detected the package's delivery exception and have arranged a replacement for your order on December 6. We've contacted with you about the replacement tracking info. Please let us know if there is anything else we can do for you or if you still have concerns. Sorry for the inconvenience again. Thank you, Emma
11/07/2021
Anonymous

United States
I recommend this product
Air Filter
Good, easy to change.
09/13/2021
Anonymous

United States
I recommend this product
Good as new.
I've read reviews that state the replacement filter is not like the original. My guess, and it's just that, is that they bought a knock-off. From what I can tell, these replacement filters are exactly or nearly so like the one that came with the unit. It's a great unit for a small to mid-sized room, and does well what it's supposed to do. Recommend and will not hesitate to buy the unit or the replacement filters again.
05/31/2021
Tobi B.

United States
I recommend this product
Amazing
Works like a charm.
You may also like